While "aquagym" has previously been closely associated with gentle sporting activities for seniors only, nowadays this is a totally outdated, preconceived notion.  
Today, pool-based group classes are very popular and attract men and women of all ages. Cycling, trampolining or even underwater pole dancing - there is something for everyone. Say goodbye to the eternal lengths of the pool, because you are about to discover the aqua class that you can't do without!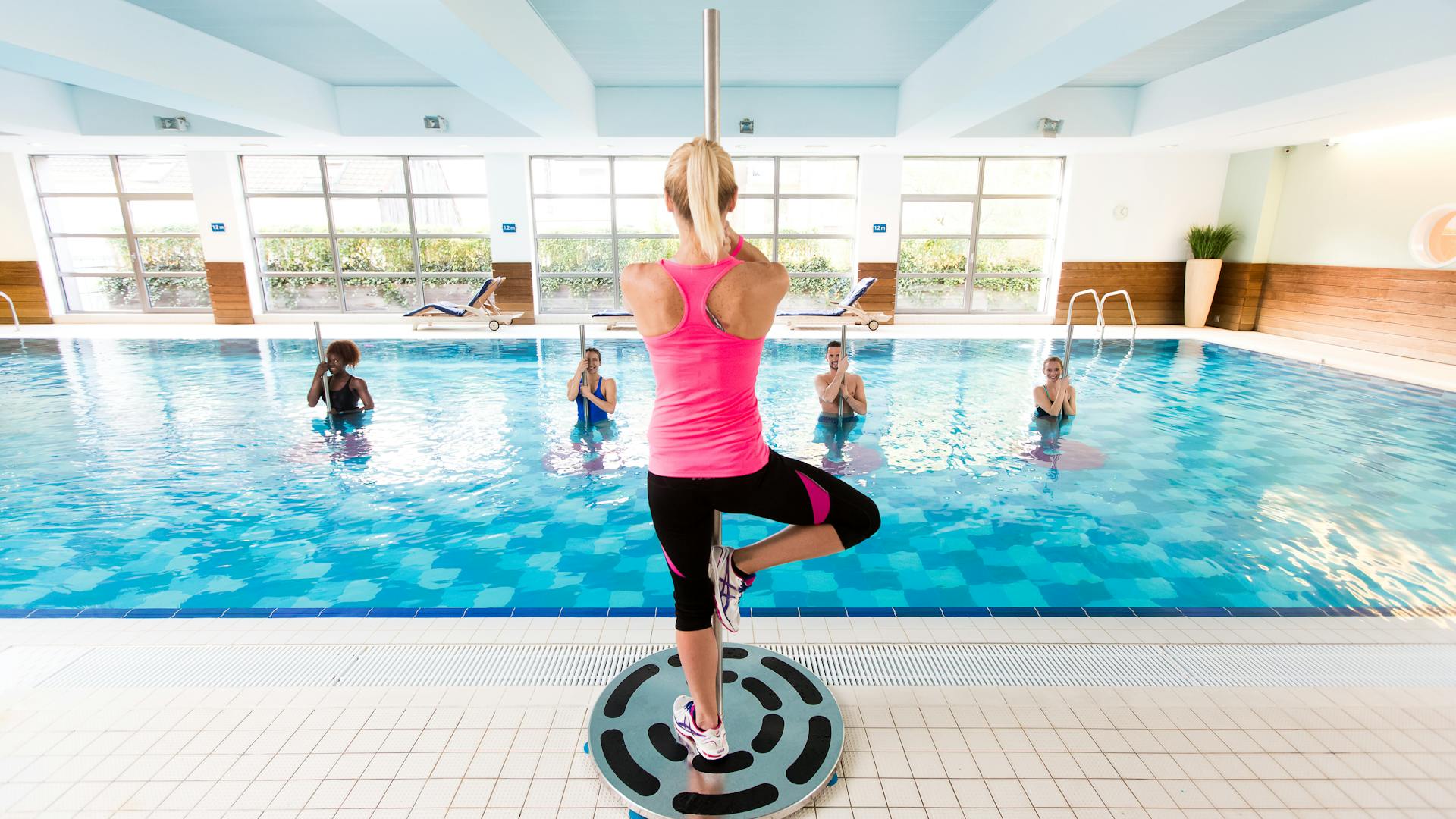 The benefits of group classes
They are two important things about group classes: on the one hand, they encourage people to exercise more often, and on the other hand, they provide the motivation to stick to a sports routine. These findings apply to both women and men, regardless of age.
It would seem that group classes create strong bonds between members of a fitness club, who appreciate the fact that they are working out together while having fun, in the company of a motivating trainer and while listening to lively music.
A strong sense of community quickly develops among participants in the same session, who end up going to the class more for the friends they meet there than for the class itself. In addition, there is less of a tendency to drop out or skip a workout when you know that other people are counting on your presence. In short, it's a virtuous circle!
Group classes are also an effective way of combating stress, thanks to their positive effect on psychological wellbeing. In an American study, medical students (who were under a lot of stress every day) were given the choice of training either alone or in a group for a period of 12 weeks. Through questionnaires that tracked their stress levels, it was found that the students who chose to train in a group had a 26% reduction in stress, which is significantly more than the reduction observed in the students who trained alone, even though the latter's training sessions were generally twice as long.
The benefits of swimming pool-based exercises
Water is an optimal environment for training for a number of reasons. First of all, because in water the body is three times lighter than on land, it is almost impossible to injure yourself. The water cushions your movements and makes them more fluid, which protects your joints.
But that doesn't mean that people who are looking for an intensive workout will be left wanting more! Moving in water requires greater muscular and cardiovascular effort. Which means the results of training in water are numerous: improved blood circulation, toned muscles, reduced cellulite and increased mobility, plus the feeling of wellbeing that water provides.
Aqua classes at Aspria
Our clubs offer several aqua-fitness classes, all of which have one thing in common: you won't get bored! So, in addition to meeting up with friends and enjoying the benefits of water, you will also have fun exercising which is obviously a major advantage.
Far from being limited to aquagym, Aspria has developed a wide range of group classes in the pool. We invite you to (re)discover some of these courses.
Aqua Biking
Concept:
Aqua Jump consists of trampolining in a swimming pool to rhythmic music. The trampoline is attached to the bottom of the pool with suction cups.
Perfect for:
This activity is suitable for both beginners and advanced athletes, as everyone can adapt the exercises to their level of fitness. Another piece of good news is that you don't even have to be able to swim to take Aqua Jump classes, as the water only reaches your waist.
Benefits:
The jumps and the resistance of the water make these classes intensive cardio sessions, which burn a lot of calories and eliminate cellulite. The constant instability means that the deep muscles of the abdomen, back and legs are constantly contracted.
WatFit
Concept:
WatFit (a combination of the words "water" and "fitness") consists of working out on water, not in water. The exercises, inspired by yoga, pilates and fitness, are performed on a floating PVC mat. Although the mat is held in place by water lines, it is somewhat unstable, requiring class participants to use their entire body to maintain balance. No weights or other equipment are added to the exercises, given that it's hard enough to lift your own body weight on a floating mat.
Perfect for:
WatFit is suitable for everyone, from beginners to experienced athletes, as the intensity of the exercises can be adapted to the individual's sporting ability.
Benefits:
Weight training, cardio, postural work, breathing, muscle strengthening, coordination - the benefits of WatFit are numerous. This discipline allows you to strengthen the whole body, and in particular the muscles of the abdominal belt, the back and the pelvis.
Other pool-based activities
In addition to these fantastic classes and the classic aquagym – all available at our clubs, there are other sports that can be practised in their underwater version. How about underwater rugby and hockey?
Underwater rugby originated in Germany in the 1960s from the imagination of a German diver. The diver had the idea of filling a water polo ball with salt water to make it denser than water. The players, who play six against six, are equipped with a mask, snorkel, fins and a water polo cap.
Underwater hockey originated in England. To play, players must wear the same equipment as their underwater rugby colleagues, with the addition of a mini hockey stick and protective silicone gloves. The aim of the game is to put a puck into a goal, which takes the form of a three-metre long stainless steel channel.
Take your workout routine to a new dimension
As you will have understood, the swimming pool is not limited to doing laps or to gentle exercising. Aqua-fitness can take many forms and is gaining more and more followers. Whether you are looking for a relaxing, intense or perhaps a more unusual activity to add to your training programme, consider trying a group class in the pool as a new challenge this year.
Discover our complete schedule of aqua classes, and take the plunge!